---
ANZAC Day commemorates the landing of Australian and New Zealand soldiers – the Australian and New Zealand Army Corps – on the Gallipoli Peninsula in 1915. This was New Zealand's first major engagement in WWI and was a baptism of fire. During the failed Gallipoli campaign, thousands of lives were lost - among the dead were 2779 New Zealanders.
The events on the Gallipoli Peninsula left an indelible mark on New Zealand's national psyche. In 1916 New Zealand held its first ANZAC Day to mark the sacrifices made by the thousands of service men and women serving in WWI.
Since 1916, ANZAC Day has gone through many changes. Today ANZAC Day honours over 270,000 New Zealand service men and women who have seen active service overseas and over 30,000 fallen service men and women who have paid the ultimate sacrifice.
They shall grow not old, as we that are left grow old;
Age shall not weary them, nor the years condemn.
At the going down of the sun and in the morning
We will remember them.
---
Horace Moore-Jones (1868 – 1922)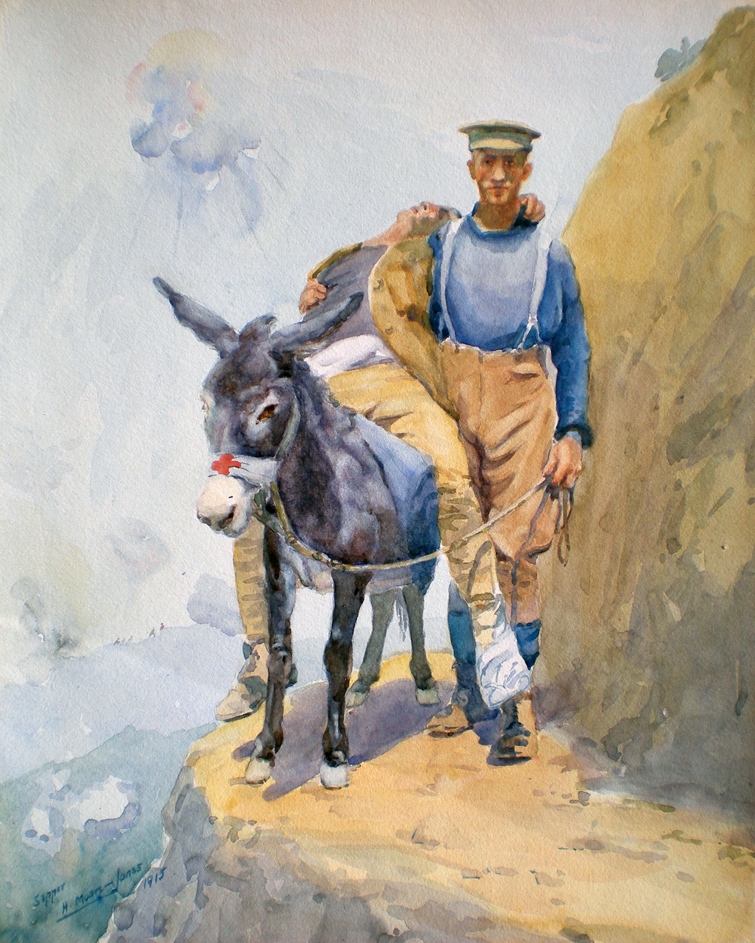 Simpson and his Donkey, c.1915, watercolour on paper, Aigantighe Art Gallery Collection, 1956.45
Horace Moore-Jones was born in England and came to New Zealand in 1885. He was sent to Gallipoli in 1914 and while on combat duties he was able to draw and paint. He was wounded in 1915 and sent back to England to recover; in hospital he painted more watercolours based on his sketches. These soon came to the attention of the military and became so popular they were reproduced as prints. Moore-Jones was discharged from the army on medical grounds in 1917; he returned to New Zealand where he organised a touring exhibition of his Gallipoli watercolours.

The man leading the donkey in this painting is thought to be John Simpson (1892-1915). He was a stretcher-bearer during the war and used to retrieve wounded soldiers from the battlefield on a donkey called 'Murphy'. This was a dangerous and brave task; he died on 19 May 1915, while helping a wounded solider.

But the man in this painting also looks similar to the New Zealander Richard Henderson, who took over after Simpson's death in 1915. It is possible that Moore-Jones painted the first version of this painting after seeing a photograph of Henderson at Gallipoli helping a wounded man on a donkey - a photo taken by James Jackson of Dunedin. Moore-Jones may have believed that the photograph was of Simpson. Five similar versions are known to exist of this painting.

Horace Moore-Jones died in 1922 while trying to save a girl from a fire in Hamilton.
---
Jock E. Fraser (1899 – 1974)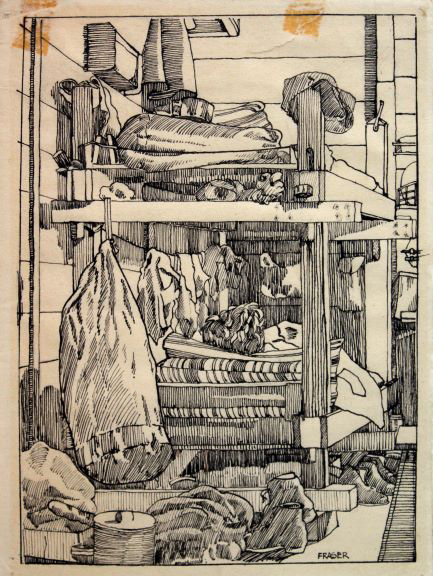 Interior Scene of Bunkhouse, 1942, pen and ink on paper, Aigantighe Art Gallery Collection, 1982.14.81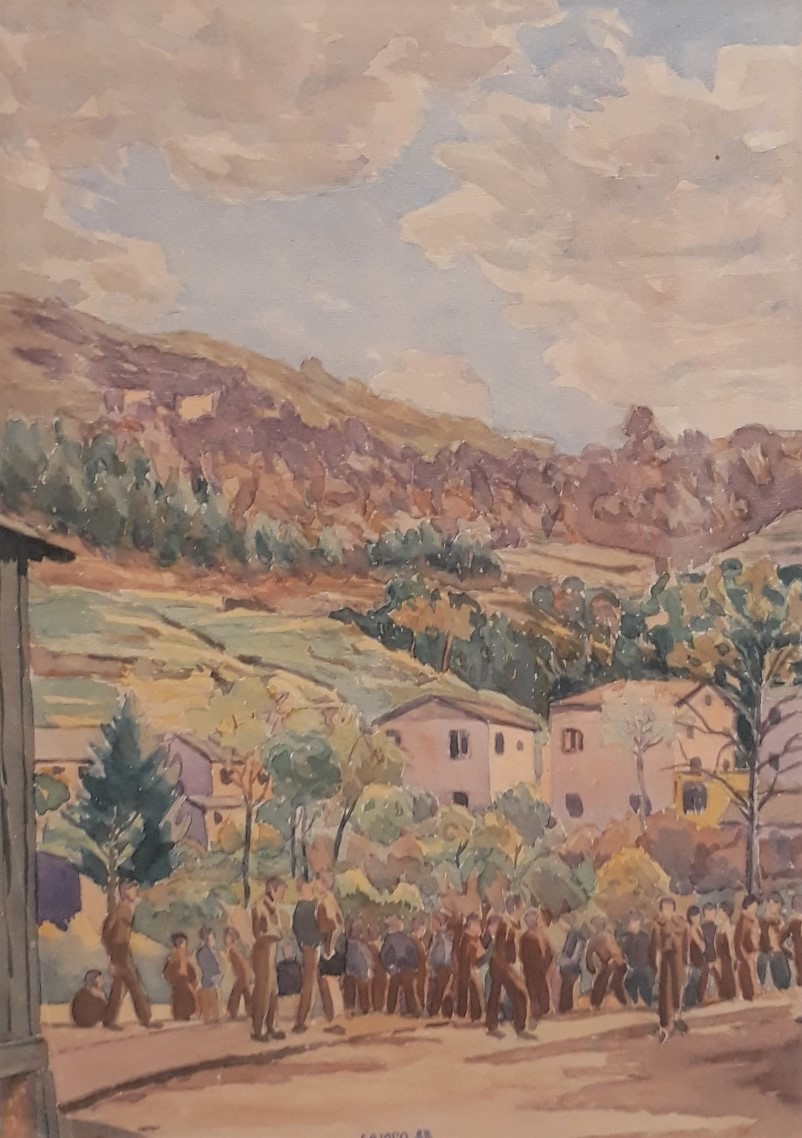 Campo 52, c.1942, watercolour and graphite on paper, Aigantighe Art Gallery Collection, 1982.14.74
Jock (John Edward) Fraser was born in Oamaru in 1899. He was educated in Invercargill and later trained as a primary school teacher at Dunedin Teacher's College. He taught at several schools across Canterbury including Taiko School and had two appointments at Timaru Main School during the1920s and 30s where he specialised in singing and art.
Fraser served in the Intelligence Section of the 26th New Zealand Infantry Battalion, 6th Infantry Brigade; he saw action in Greece, Egypt and Libya. On November 30 1941 Fraser was captured at Sidi Rezegh, Libya and spent the remainder of the war as a POW. Fraser was first held in POW Campo 52 at Pian di Coreglia, Liguria, Italy, where food shortages and strict discipline were common. Fraser occupied himself by drawing and produced many sketches of his surroundings and fellow prisoners on whatever scraps of paper he could find. In 1943 Fraser was transferred to Stalag VIIIa near Dresden in Germany, but before leaving Italy, Fraser left his drawings with an Italian family who later sent them to New Zealand with the advancing American forces. It is through
this act of kindness that we are able to see Fraser's unique drawings today.
---
George Edmund Butler (1872 – 1936)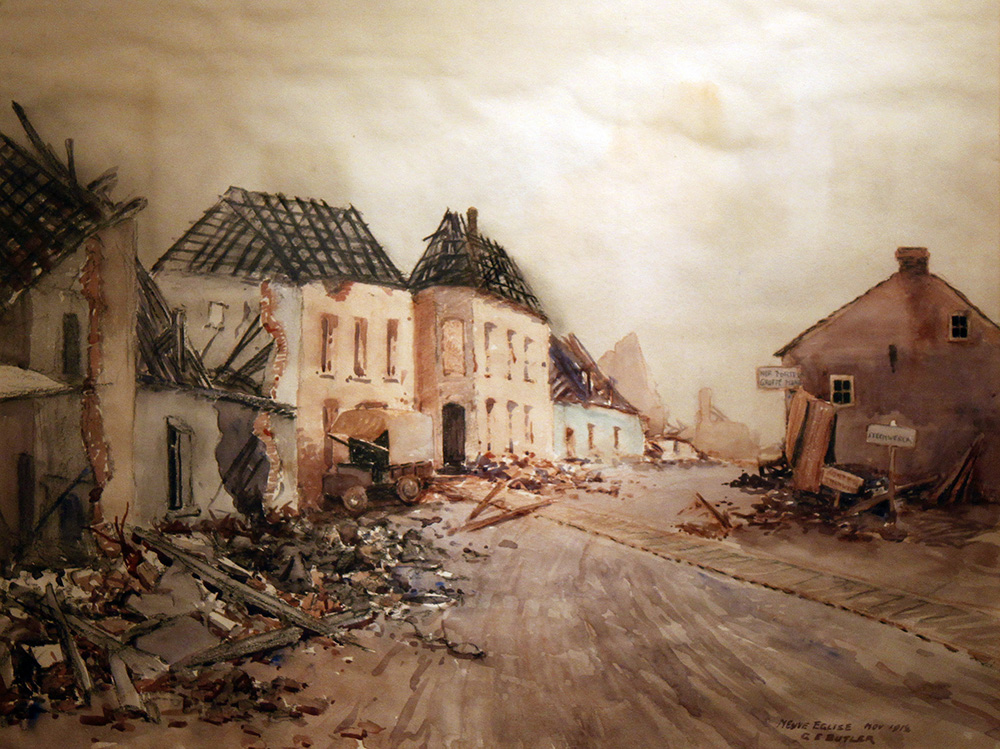 The Cross Roads, Neuve Eglise, 1918, watercolour and charcoal on paper, Aigantighe Art Gallery Collection, 1956.8
George Edmund Butler was born in 1872 in Southampton, England. He immigrated to New Zealand with his parents in 1883 and settled in Wellington. He studied art part-time under James Nairn (1859–1904) at the Wellington School of Design before travelling to Europe in 1898 to study at the Lambeth School of Art, the Académie Julian in Paris and the Antwerp Academy.

In 1900 Butler returned to New Zealand, but struggled to make a living from his art. In 1905 he moved back to England, settling in Bristol, to teach art at Clifton College. In 1918 the New Zealand Expeditionary Force War Museum Committee approached Butler to be an official New Zealand war artist. He was appointed with the honorary rank of captain in the New Zealand Expeditionary Force (NZEF) in September 1918. He joined the New Zealand Division in France for three months and observed a number of military operations; during this time he completing 53 sketches and paintings. Butler also made numerous drawings in sketchbooks, which later became the basis for a number of his paintings.

After the war Butler resumed life in England and never returned to New Zealand. He died at Twickenham on 9 August 1936.
---
Sir Henry Rushbury (1889-1968)
St Pauls from Bomb Ruins, 1942, drypoint on paper, Aigantighe Art Gallery Collection, 1983.78
Henry Rushbury was an English painter and etcher. He began study at the Birmingham School of Art when he was thirteen, and in 1912, moved to London. Two years later, when war broke out across Europe, he was recruited as an official war artist.
These were artists employed by the government to make images that would inform the public about conflicts and capture the changes that war caused to everyday life away from the horrors of the battlefield.
St Pauls from Bomb Ruins, 1942, depicts the aftermath of a Nazi air-raid which took place during World War II. The etching shows a view of St Pauls Cathedral, which was hit in an attack on London in 1940. Fortunately, despite some damage to the building's high altar, it escaped major, irredeemable damage and became something of a symbol of British resilience against Nazi offensives.
Images like Rushbury's helped to solidify and spread this message –demonstrating the important role that art played in inspiring hope amongst the public at the time. Viewing them today, we get intimate insights into these major historical events and the people impacted by them.
---
William Greene (1872 – 1925)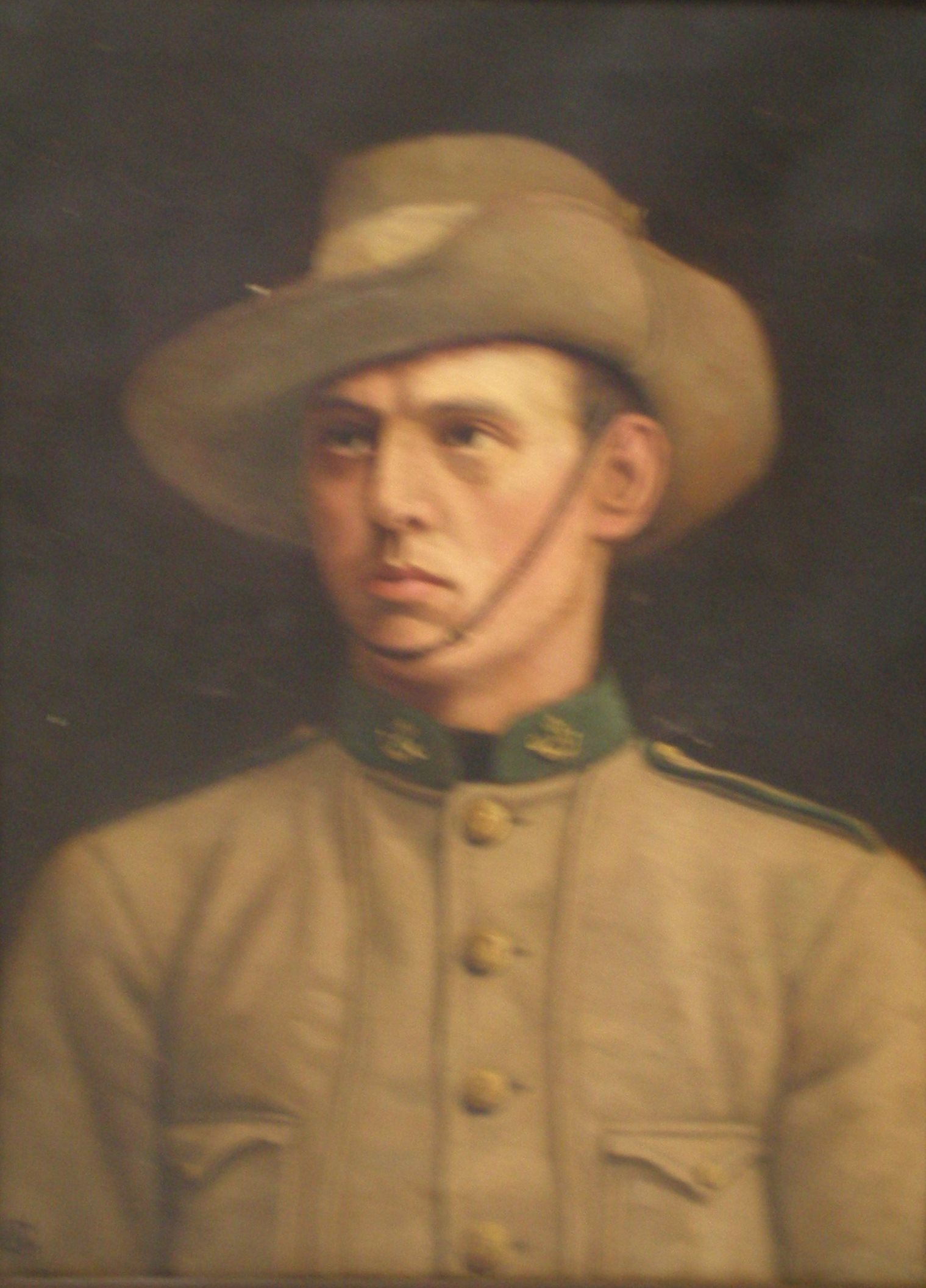 The Soldier – Corporal Smith, 1899, oil on canvas, Aigantighe Art Gallery Collection, 1970.7
William Greene came to New Zealand with his family from Australia and established a studio in Bank Street, Timaru in 1894. After trips to Australia and England for training, he began teaching art at Timaru High School. He was a founding member of the South Canterbury Art Society and has instrumental in supporting the arts in South Canterbury.
In this portrait Greene has captured South Canterbury man Robert Edward Smith, the eldest son of J.H. and Mary Smith. Smith was a Farrier Sergeant in the New Zealand Mounted Rifles, 2nd Contingent during South African (Boer) War of 1899-1902. This portrait was completed in 1899, just before Smith departed for South Africa on the Waiwera on 20 January 1900. Less than a year later, on the 29 November, Smith was wounded during a battle in Reitfontein, later dying from his wounds on 2 December 1900 in Bronkhorstspruit, Transvaal. He was buried in Diamond Hill Garden of Remembrance, South Africa.
The South African 'Boer' War (also known as the Second Anglo-Boer War) was the first overseas conflict involving New Zealand troops, with over 6500 men and 8000 horses serving during the 2½ year conflict.
---
Feliks Topolski (1907-89)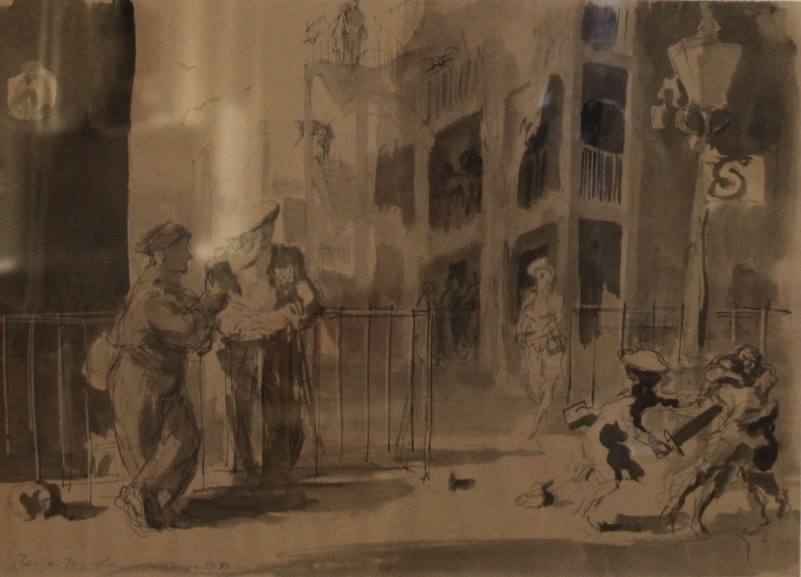 Soldiers' Leave, Summer, 1940, pen and ink wash on paper, Aigantighe Art Gallery Collection, 1979.15
Feliks Topolski was born in Warsaw, Poland. He studied at the Academy of Fine Arts in Warsaw, and trained as a cadet for the Artillery Officers' School in the Polish Army. He moved to the United Kingdom in 1935 and became an official war artist during World War II where he served in the Arctic, Italy and Burma before entering Germany with the Allied troops in 1945. After the War he visited Belsen Concentration Camp and attended the Nuremberg Trials. After WWII, in 1959, Prince Philip, Duke of Edinburgh, commissioned Topolski to create a mural depicting the coronation of Queen Elizabeth II.
In this work Topolski shows two soldiers in London during leave. In contrast a group of boys in the foreground play war games, showing the innocence of youth.
---