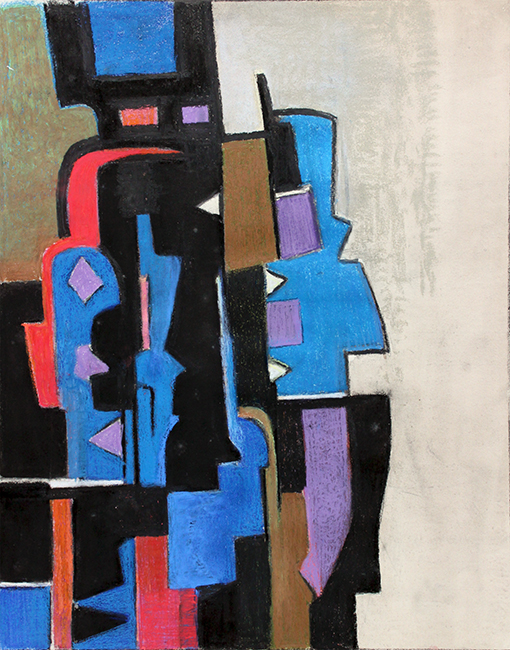 Clifford Brunsden, Automation, date unknown, pastel on paper, Aigantighe Art Gallery Collection 1998.49
Clifford Brunsden (1909-1969) was born in Timaru to an artistic family. His father was a piano and organ tuner operating out of a shop on Elizabeth Street, and his older brother Claude was also a gifted artist. Clifford attended Timaru Boys High School and received art tuition there from the local artist, Albert J. Rae. Leaving secondary school, he pursued further education at institutions across the country, including in Christchurch, Auckland and Wellington.
Following his studies, Brunsden travelled to Britain and Europe; he visited the public galleries of the countries he visited, and would have seen the work of many great classic and modern painters. Brunsden's work clearly absorbed the influence of both. While he painted many landscapes in a representational style, he also experimented with abstraction – as seen in this painting, titled Automation.
The work bears some resemblance to Picasso's later cubist works in its use of bright colours and a collage-like composition. Like the famous Spanish painter, Brunsden breaks the world into fragments and re-organises them according to their geometric forms. This process of deconstruction and reconstruction encourages the viewer to see the world differently, in a way which is unnatural and unfamiliar. This was a one objective throughout the first half of the 20th century, and underpins some of this period's abstract art.
Automation is strongly influenced by international art history, but it is also important to local art history: as well as being a talented artist, Clifford Brunsden was the inaugural director of the Aigantighe Art Gallery from its opening in 1956. He remained in this position until his death in 1969.