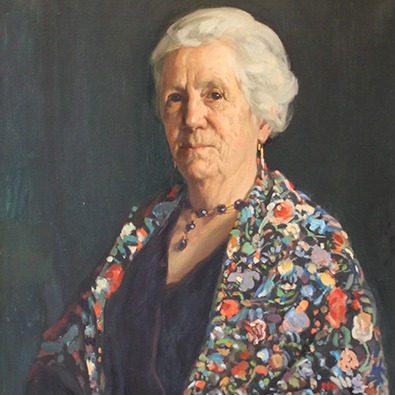 Archibald Nicoll, Helen Grant, c.1940, oil on canvas, Aigantighe Art Gallery Collection 1998.34
Archibald Nicoll (1886-1953) is one of New Zealand's most noted portrait and landscape artists of the early-twentieth century. In addition to his credentials as an artist in his own right, Nicoll is also recognised as an important arts educator and mentor to other artists, including Rita Angus and Bill Sutton.
As a young man, alongside his work for a shipping company, Nicoll took night classes at the Canterbury College of Art. Upon graduating, he was offered his first teaching position at Elam School of Fine Arts in Auckland which he remained in for several years before travelling to Europe to pursue further education abroad.
This experience enriched his art with a fresh and modern perspective as well as a technical prowess that distinguished him when he returned to New Zealand in 1918. In 1920 he was appointed director of the Canterbury College of Art, and was a sought-after portraitist.
This portrait, painted by Nicoll, depicts Helen Grant. Grant (1854-1955) and her husband, Alexander, built the Aigantighe House (that would later become the Aigantighe Art Gallery) in 1908 as their retirement home. Helen Grant hosted many parties in the Edwardian Queen Anne Revival-style homestead and its surrounding gardens which the Grants both cultivated as passionate horticulturalists.
In 1955, Helen and Alexander's son, James, gifted the Aigantighe to the city of Timaru to serve as the public art gallery, along with the family's collection of British, Australian and New Zealand art, as per his mother's wishes.
Their generous donation marked the family's lifelong interest in and commitment to the arts, as does this portrait of Helen Grant by Nicoll. Not only were the Grants patrons and supporters of contemporary art in the twentieth-century, but they ensured creativity could continue to thrive into the future.