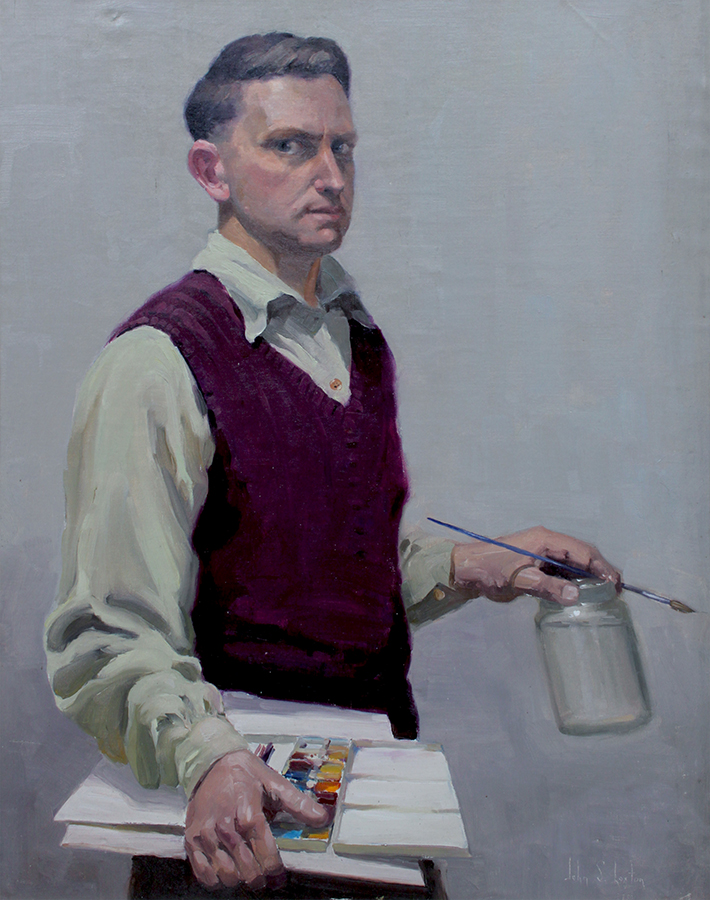 John Loxton, Self Portrait, 1930, oil on canvas, Aigantighe Art Gallery Collection, 1980.19
John Loxton (1903 – 1969) is an Australian artist, considered one of the country's best landscape painters. He was born in Adelaide and moved to Melbourne as a young man to study at Swinburne Technical College and later, the art school of the Australian National Gallery.
At these two institutions, Loxton developed an eye for landscape and honed his talent for reproducing them in both watercolour and oil paints. He exhibited consistently in Australia from 1937 onwards – painting full-time from 1946 – and became well entrenched in the local arts scene as a member of multiple artist societies and as president of the prestigious Fellowship of Australian Artists, a role he held for fourteen years.
Loxton first travelled to New Zealand in 1946. He came to the Rangitata region to paint the scenery, which he described as "mouth watering" to a Wellington newspaper in January 1946. Following this visit, Loxton was inspired to travel further afield, going to the UK and Europe in 1948-50. Whilst there, he mounted several solo exhibitions showcasing the landscapes of the Southern Hemisphere to enthusiastic audiences in London, and also presented his work at the Royal Academy, alongside Europe's top artists.
Irrespective of where he worked, Loxton always worked from life, en plein air (or outdoors, directly from nature). His naturalistic style was both acclaimed by audiences seeking traditional techniques and familiar scenes, and disparaged by those seeking art that was more expressive and modern. But Loxton's faith to nature and his own artistic philosophy was staunch, he never submitted to the ever-changing trends of Modernism.
This tenacity is evident in Self Portrait, which was painted early in Loxton's career. Armed with a palette and canvas in one hand and gripping a brush and water-jar in the other, Loxton portrays art-making as a serious task and himself as someone who rises to the occasion.