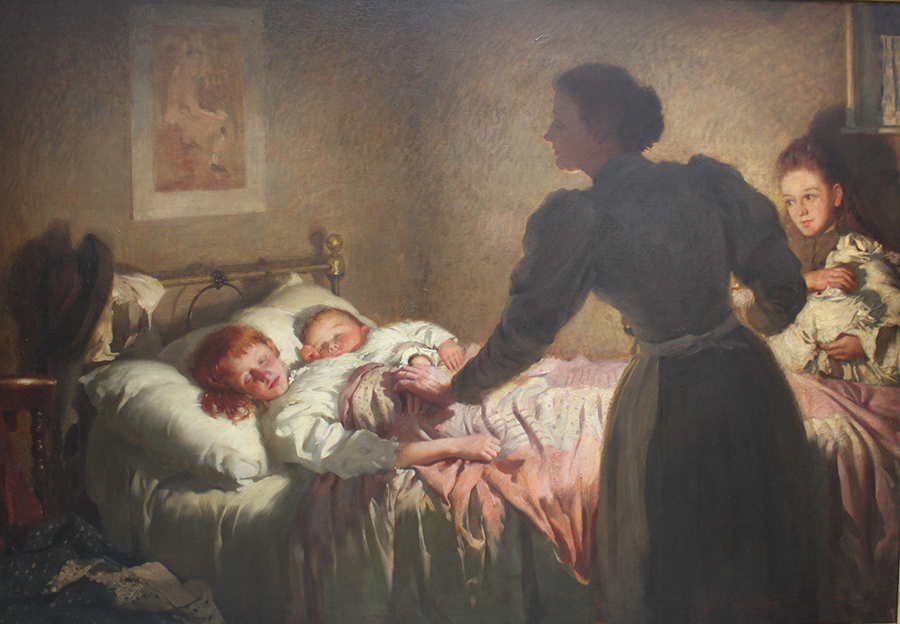 Thomas Kennington's The Mother, 1895, oil on canvas, Aigantighe Art Gallery Collection, 1956.37
One of the original artworks in the Aigantighe Art Gallery's permanent collection, Thomas Kennington's The Mother, 1895, has recently returned after being restored by the Gallery's painting conservator in Christchurch. The conservation of this large painting has been sponsored by the Friends of the Aigantighe by donations from Footes Chartered Accountants and a Friends of the Aigantighe member.
The British artist, Benjamin Thomas Kennington (1856 – 1916), was academically trained – he studied at the Liverpool School of Art, the Royal College of Art, and the Acadèmie Julian in Paris in the 1870s. He was a successful portraitist and genre painter, and many of his paintings are described as Victorian narrative paintings. Capturing a story with an underlying moral message, Kennington often painted as a social activist depicting scenes of the plight of the urban poor in London – his paintings had titles such as Homeless (1890), A Pinch of Poverty (1889), Windowed and Fatherless (1888).
But, The Mother is a celebration of family values and the role of a woman within the family. It is worth noting that the artist's wife, Elise, passed away at the age of 34, the same year Kennington produced this painting (and the couple did have children). While the artist draws the viewer's attention to the importance of marriage as a family value by having the woman's left hand and her wedding ring bathed in light and placed just below the centre of the picture plane, he also uses the light source in the painting symbolically. The lamp or candle metaphorically represents the woman's essence and influence – as a wife and mother – it is her that lights up the children's bed, with her warm touch, and her noble stature, as she guides and comforts all in her care with her nurturing and protective presence.
Kennington exhibited his paintings with the prestigious and academic Royal Academy in London – he showed artworks there from 1880 right up until his death in 1916. The Mother was one of his paintings exhibited there in 1895, the same year that he finished the work. Seen as a British artwork of significance that could inspire the public of Timaru, The Mother was presented to the South Canterbury Art Society in 1914 by the former Mayor of Timaru, James Craigie. The Society had begun collecting artworks for Timaru's own Public Art Gallery – which came to being in 1956 after the Aigantighe House and Gardens were gifted by the Grant family.