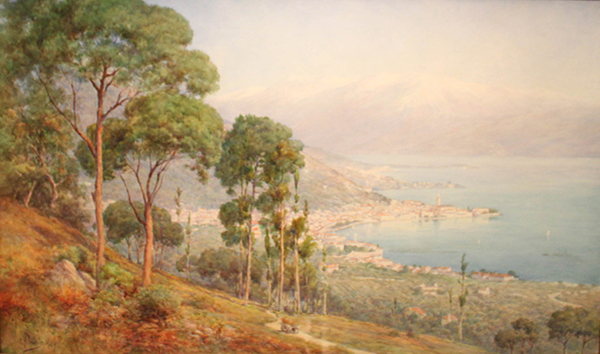 Charles Worsley, The Lago Di Garda, unknown date, watercolour on paper, Aigantighe Art Gallery Collection 1956.63
Charles Worsley (1862 – 1923) was born in Devonshire, England. Details of his early life are not widely available, however, it is recorded that he exhibited with the prestigious Royal Academy in London several times between 1889 and 1894. This would indicate that he received some formal training in painting, as the Academy had high standards of technical proficiency, as well as a preference for academic-style representation.
Despite this achievement, Worsley did not have a huge profile in England. Perhaps searching to establish a reputation, he immigrated to New Zealand in 1897. Upon arrival, he settled in Gisborne and quickly made himself known amongst the country's many art societies. At the time, the art scene in Aotearoa was very attached to classical English subject matter and stylistic choices (having not yet found its own distinctive traits). Worsley, who painted in this style, was immensely popular, and managed to support himself as a professional artist.
He moved between Christchurch, Wellington and Auckland for two decades, and is noted to have travelled extensively back-and-forth to Europe during this time, too, where he often painted directly from life.
The Lago Di Garda – held in the Aigantighe Art Gallery's permanent collection – was painted on the shores of Lake Garda, a popular resort-region in Northern Italy between Milan and Venice. It captures the natural beauty of this area, where crystal-clear waters are bordered by cobbled streets, lush greenery and towering mountains. The landscape appears endless thanks to the artist's keen eye for recessionary space, allowing the viewer's imagination to roam beyond the confines of the frame.