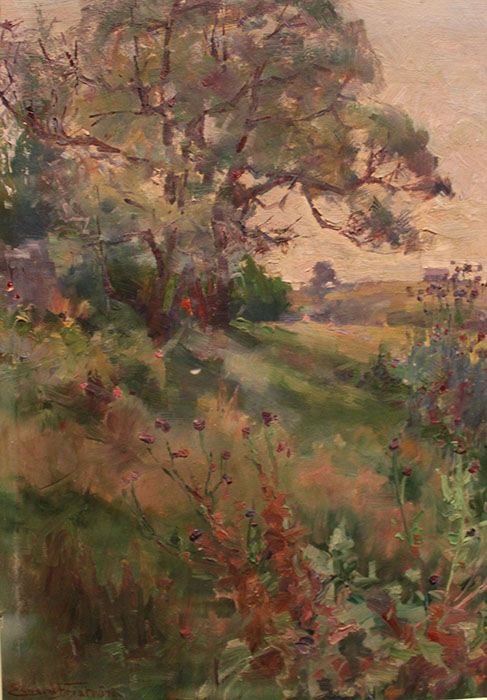 Claus Edward Fristrom, Untitled, c. 1910, oil on board, Aigantighe Art Gallery Collection 2018.21.1
At the beginning of the twentieth-century, a handful of European émigré artists brought a modern sensibility to New Zealand painting. They were responsible for shifting art trends away from a grandiose traditional style towards an appreciation for how the familiar and everyday could become artistic subject matter.
One of these artists was the Swedish-born Claus Edward Fristrom (b.1864-d.1950). Fristrom first arrived in the Southern Hemisphere in 1884, when he moved to Brisbane and began work as a studio photographer. During his time in Australia, Fristrom predominantly produced portrait and landscape photographs, and gained significant recognition for his work. Alongside this professional career, Fristrom painted recreationally with a preference for working outdoors, directly from life.
It is recorded that, around 1903, Fristrom moved to New Zealand – his artistic preferences were well served by Aotearoa's great outdoors. The diverse and wide-spread locations of his paintings suggest that he travelled extensively while he was settled here. In between travelling, Fristrom lived in Auckland where he held a teaching position at the Elam School of Fine Art from 1911-15. As a mentor, Fristrom was known for his warmth, charm, and ability to generate energetic enthusiasm in his students.
After leaving this position, Fristrom moved to the United States of America. When there, he was never able to establish a reputation, and the size of the continent inhibited his ability to travel and paint as he had in New Zealand.
Fortunately, he is still recognised as a key figure in art history here, and the Aigantighe Art Gallery is fortunate to have this painting (pictured above) in its collection as testament to this. Untitled, c.1910, is characteristic of Fristrom's work which sought to capture the mundane beauty of the landscape. Through a simple arrangement of flowers, trees and tussocks, as well as distant dwellings on the horizon line, Fristrom imbues an unexceptional scene with artistic value and spirit.