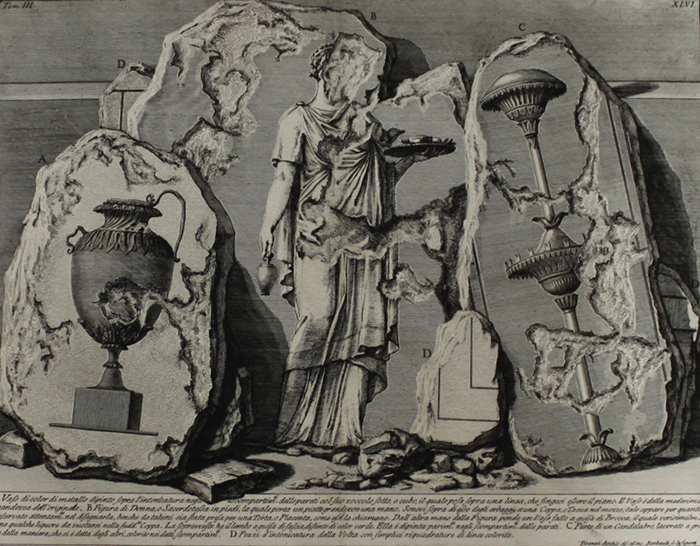 Giovanni Piranesi, Untitled, c.1756, engraving on paper, date unknown., Aigantighe Art Gallery Collection, 2003.43
"I need to produce great ideas, and I believe that if I were commissioned to design a new universe, I would be mad enough to undertake it." Giovanni Piranesi
Giovanni Piranesi (1720 – 1778) was an acclaimed draftsman and printmaker whose eye for classical architecture styles not only cemented his reputation as an artist, but also contributed considerably to the fame of Rome and the city's rich history.
Piranesi first moved to Rome at the age of 20 where he began studying with leading printmakers of the eighteenth-century. It was when he developed his own original method of etching that Piranesi became truly established and his talents found their stride.
His technique deepened the contrast of his images and heightened their textural character. These formal elements also complemented his preferred subject matter: classical Roman architecture. Piranesi's high-contrast prints insured that the abundant sculptural details in these ancient structures were tangible to his viewers. In making these images, Piranesi was as much an archaeologist as he was an artist. He coupled the careful observation of ruins with a thorough knowledge of Roman building methods, and funnelled these through his vivid imagination to bring the lost city back to life.
Each of these qualities can be seen in Untitled (pictured above), which is held in the Aigantighe Art Gallery's permanent collection. The etching depicts a series of stone slabs, which are in partial ruin, in great detail. The slabs bear marks made by Roman craftspeople, who have carved a robed figure, a large urn and representations of other objects into their surfaces. In this image, Piranesi captures a trace of the classical period and its rich cultural heritage.