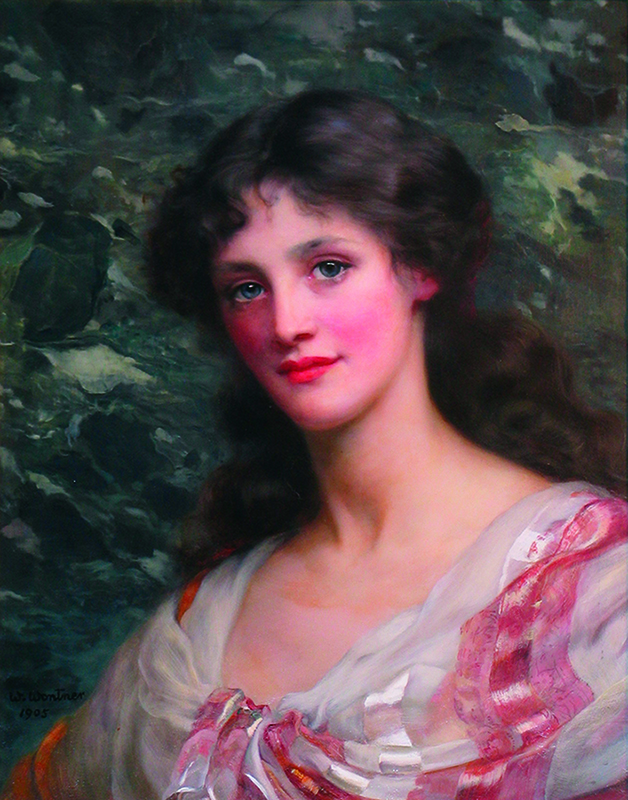 William Wontner, Amelie, 1905, oil on canvas, Aigantighe Art Gallery Collection, 1962.20
A favourite of many in the Aigantighe's Permanent Collection is William Wontner's Amelie. Wontner (1857-1930) was born in Surrey to an architect and designer, who taught technical artistic skills to his son from a young age. While this education ensured Wontner's fluency in line, light and perspective, as an adult he strayed from the practical drawing style of his father, preferring instead highly decorative works that took inspiration from Romantic philosophies and Pre-Raphaelite painters such as Edward Burne Jones, William Holman Hunt and John Everett Millais.
Wontner often chose to paint portraits of young women, whom he saw as embodying ideals of European beauty – Amelie is one such subject. In portraiture, the setting in which a subject is depicted usually tells the viewer more about that person; kings and war heroes, for example, were often painted against a backdrop which emphasised their wealth, power and virtuosity. In this picture, however, Wontner uses a plain, marble-like background, in order to draw all attention to the physical features of the woman.
This style made Wontner a popular artist in his time. He received a steady number of commissions to paint portraits like this one and ornamental murals for wealthy London homeowners, as well as a number of invitations to exhibit at the Royal Academy. Alongside his work as a professional artist, he also taught at St John's Wood Art School.