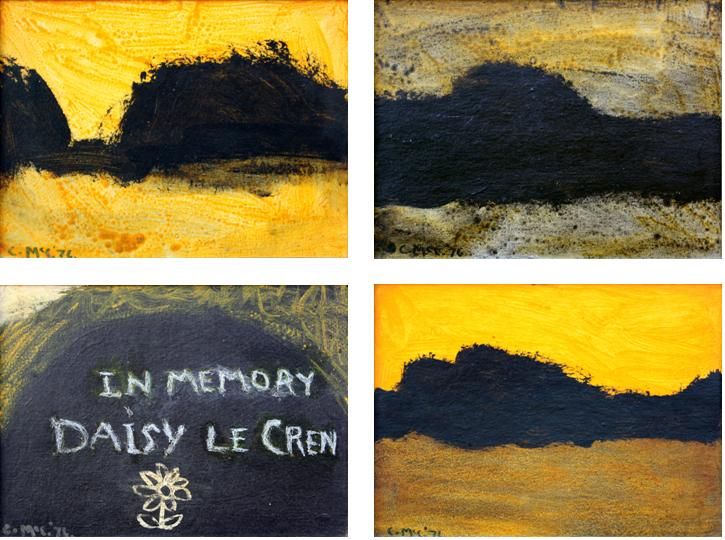 Colin McCahon, Daisy Le Cren Series 9-12,1976, acrylic on board, Aigantighe Art Gallery Collection, 1999.8 - 1999.11
Daisy Le Cren Series 9-12 was painted by one of New Zealand's most prominent and celebrated painters, Colin McCahon. McCahon painted these artworks to commemorate the passing of another artist, Daisy Le Cren, as a gift for her daughter (and McCahon's friend), Betty Curnow. Betty Curnow (1911-2005) (nee Le Cren), was also an artist, she grew up in Timaru, and gifted these paintings to the Aigantighe Art Gallery in 1999.
Colin McCahon (1919 – 1987) was born in Timaru, then moved to Dunedin and attended Dunedin School of Fine Arts in the 1930s. He married Anne Hamblett in 1942 and the couple moved to Mapua and raised their family. The family moved to Titarangi in 1953, and then relocated to central Auckland in 1960. In 1969, the couple purchased land at Muriwai and McCahon build a large studio (7m x 5.5m) and produced large scale paintings – notably, Victory Over Death 2, 1970 (2m x 6 m), now owned by the National Gallery of Australia, and Gate III, 1970 (3m x 10m), now in the Victoria University of Wellington collection. McCahon had begun teaching at Elam School of Fine Art at Auckland University in 1964, and in 1971 he left to work as a full-time artist, spending his time in this studio.
In his paintings, McCahon responded to the local landscape at Muriwai – the cliff, the offshore island and the beach. In the early 1970s he experienced the loss of a number of loved ones – one of his earliest supporters, Charles Brash, his mother, Ethel, and the poet James K. Baxter – which resulted in several memorial paintings. These memorial paintings depicted the Muriwai landscape because McCahon had a sincere interest in Maori spiritually that told of the flight of the deceased from Te Henga to Te Rerenga Wairua (Cape Reinga) to leap over to the afterlife, which meant they journeyed northwards up the Muriwai Coast.
McCahon painted the Daisy Le Cren Series in 1976 (of which there is a total of 16 panels). These 4 black framed acrylic paintings reveal three landscapes of various tones of yellow ochre and black that capture various vistas of land, water, and sky. They seem to show the moment a brightly burning sun sinks into the sea, but lingers, reflecting in the sky and across the water, producing a contrasting dark mass of headland or an island on the horizon. These artworks are metaphoric for the passing bright life of Daisy Le Cren. McCahon's meaning and intention of these paintings is shown in the remaining panel, when the black landmass morphs into a tomb stone and we read the words: "In memory of Daisy Le Cren".