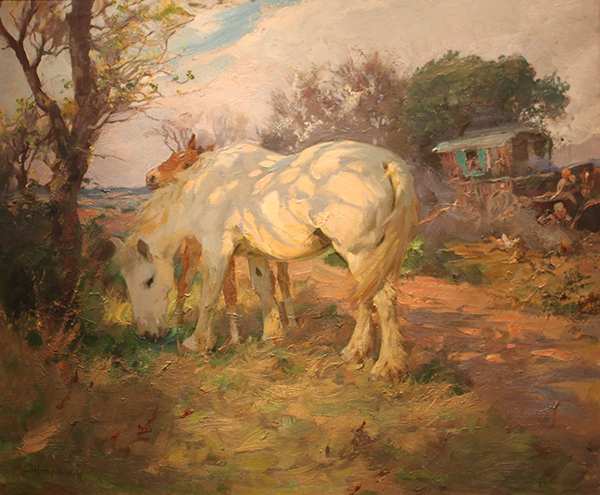 Lucy Kemp-Welch, The Wanderers, c.1925, oil on canvas, Aigantighe Art Gallery Collection, 1962.7
The 26 year old, Lucy Kemp-Welch (1869 – 1958) showed a large oil painting that wowed her viewers at the Royal Academy in London in 1897 (a society of artists who were committed to raise the professionalism of the artist through exhibitions, education and debate – aiming for academic excellence). Colt Hunting in the New Forrest, c.1897, was one and half meters high and over 3 meters long and showed several wild horses, mid-gallop, trying to escape from being rounded up by young men on horseback by charging directly for the viewer. Making such an impression, Kemp-Welch's painting was purchased by the trustees of the Chantrey Bequest for 500 guineas, who then later donated the work to the newly established Tate Gallery in London. This young female painter had been thrust into the lime-light, and even though – because she was a woman – she would never be permitted to become a member of the Royal Academy, she still enjoyed a successful career as an artist.
Lucy Kemp-Welch was born in Bournemouth in 1869 and she began attending the Sir Hubert von Herkomer's painting school at Hertfordshire in 1892; Kemp-Welch would later take over the school herself – teaching there from 1905 until 1926. Herkomer encouraged her to paint out of her own 'voice' as an animal painter, which she did. Kemp-Welch stated: "painting horses, is to me, the breath of life" (quoted in The Telegraph, November 1996).
Kemp-Welch was well-known for her action paintings of horses – capturing them in all kinds of employment from farming to their involvement in World War I. She was also known to many as the lady who painted 'Black Beauty' for Anna Sewell's 1915 edition of the novel, and as the illustrator of the famous World War 1 poster to recruit soldiers – Forward! Forward to Victory – Enlist Now – depicting a man in uniform, mounted on a black horse, charging with his sword drawn.
In contrast to depicting horses exerting their energy and strength, this oil painting shows horses at rest. The mare and foal are enjoying lush green grass in leisurely freedom.
In this painting we can see Kemp-Welch's delight for horses – playfully shown by the warm afternoon light that dabbles through the leaves of the tree above and dances over the mare's body. After a day's travel, the white mare has been released from the weight of the wagon we see in the background, and her foal has been allowed to join her. As Kemp-Welch often painted onsite, she was present with the horses both as a sensitive observer and a technically proficient artist. Her heartfelt painting makes the picture come alive – you can almost hear the buzz of insects in the warm air, the gentle wind playing in the leaves, and the sporadic pounding of the foal's light hooves as he bounds back and forward to his mother – all set amongst the mare's rhythmic munching. Capturing this scene, Kemp-Welch shows us the strong affection she has for these creatures that were so much a part of everyday life in the late 19th and early 20th century, and that she dedicated her life to painting.