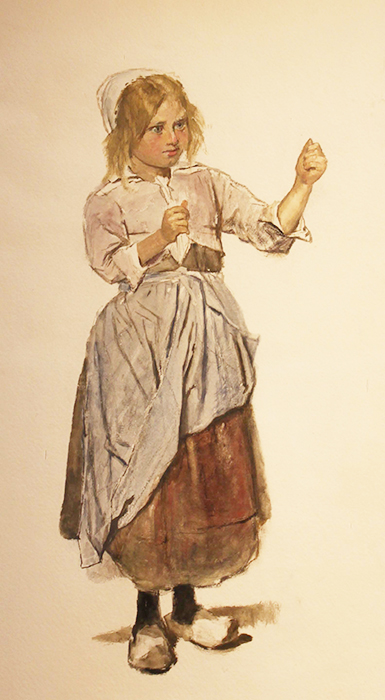 Petrus van der Velden, Dutch Figure, date unknown, watercolour on paper, Aigantighe Art Gallery Collection, 1990.25
Dutch Figure is one of four works in the Aigantighe Art Gallery's permanent collection by artist Petrus van der Velden. Born in Rotterdam in 1837, van der Velden's Dutch origins and training are immediately apparent in this portrait of a young peasant girl, not only in respect to the traditional clothing that she wears, but also in the artist's use of genre painting.
Seventeenth-century Dutch artists such as Johannes Vermeer played a key role in developing the genre style of painting which sought to depict everyday life and people with the same technical elegance as was used to represent biblical or mythical subjects. Typically, the images are realistic and executed with attention to natural light and proportion. While Dutch Figure conforms to these conventions to capture the young girl's likeness, it is van der Velden's use of quick and loose brushstrokes that convey her feisty spirit.
Van der Velden retained an appreciation for accurate representation of his subject throughout his career, and upon immigrating to Christchurch in 1890, his imagination was also captured by the wild natural environments of Aotearoa. Much of his output during his time in New Zealand focused on the landscape of his adopted land—most notably his depictions of the untamed Otira Gorge in Arthur's Pass.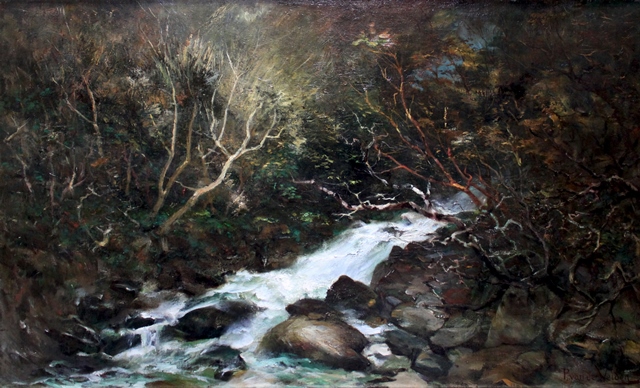 Petrus van der Velden, Bush Creek, Taramakau, c.1893, oil on canvas, Aigantighe Art Gallery Collection, 1982.3
As a seasoned and formally-trained member of European art society (as an artist from Europe), he also taught many young local artists, nurturing their talent and creativity as well as their professionalism. Though van der Velden's own paintings merit a place in national art history, the role he played as an art educator for the next generation of New Zealand artists was equally as important.