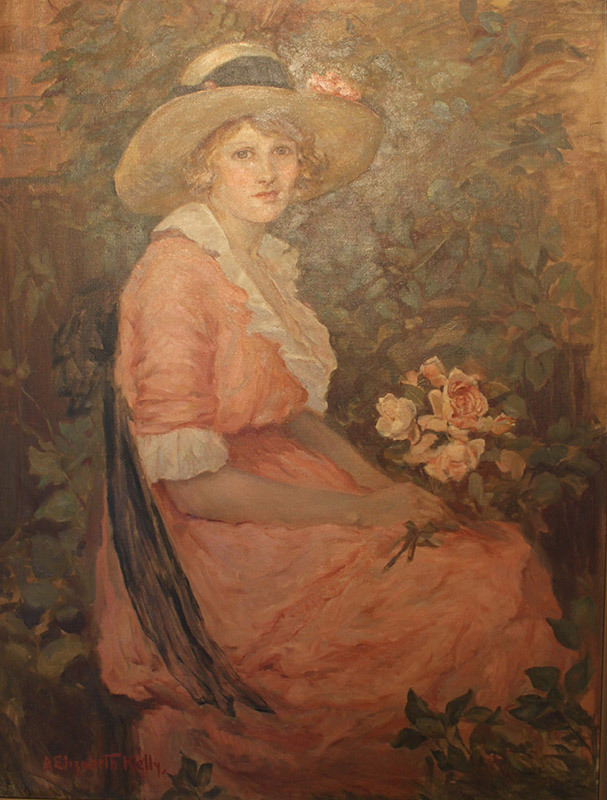 Elizabeth Kelly, Day Dreams, c.1920, oil on canvas, Aigantighe Art Gallery Collection, 1956.36
Elizabeth Kelly (née Abbot, 1877-1946) was born in Christchurch and lived there for most of her artistic career. The seeds of her career were sewn when she enrolled at the Canterbury College School of Art with the intention of gaining teaching qualifications. As a student, however, she discovered and developed a notable talent for portraiture through which she established herself as a professional artist.
In 1921, Kelly travelled to London with her husband, Cecil Franklin Kelly, living there for a year and enjoying the city's lively arts community; when she returned to Christchurch her painting had been invigorated by the bustling art scenes of Europe and the continent's cosmopolitan ideals. She painted mostly female subjects who were young, elegant and fashionable, and was a sought-after portraitist in Christchurch.
Alongside her commercial popularity, Kelly was also critically successful—in New Zealand and abroad. In 1934, she was awarded a silver medal at the Paris Salon of the Société des Artistes Français (one of Paris' most esteemed arts institutions) which was the highest achievement of any New Zealand artist at the time. Later, in 1938, this and Kelly's many other contributions to Aotearoa's creative community were recognised when she was appointed a CBE. She was the first woman to receive this distinction.
Day Dreams is an example of Kelly's portraits—though the unnamed subject suggests this work is more about the artist's expression than the sitter's social status. It depicts a contemplative woman kneeling among freely modelled foliage. Her gaze is turned towards the viewer and her cheeks are flushed with the same baby-pink hue as her frock and floral bouquet, as though we have interrupted her day dreaming in the garden.