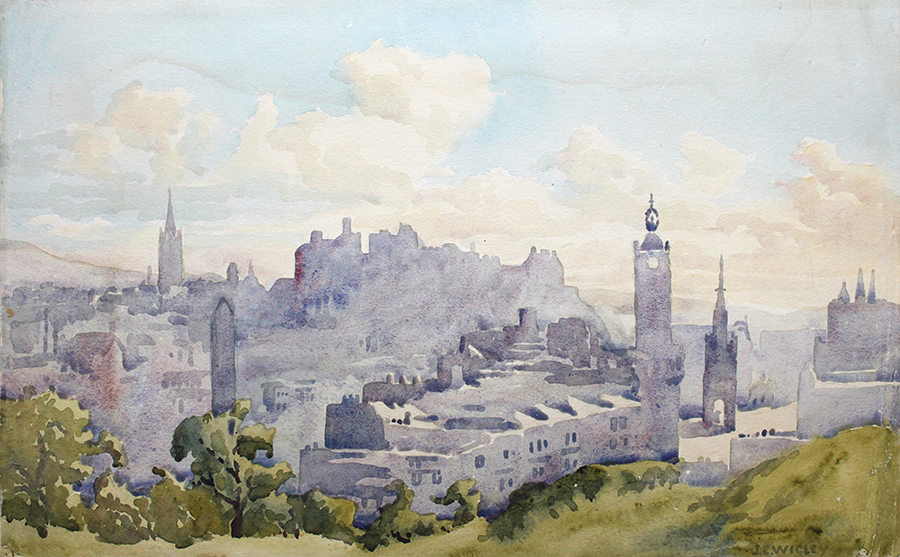 Jessie Christie Wigley, Edinburgh from Calton Hill, c.1950, Aigantighe Art Gallery Collection, 1980.29
Jessie Christie Wigley (1883 – 1968) could be described as 'the Lady behind the Aigantighe Art Gallery'. She had been interested in art from an early age, and had art lessons from artists such as William Greene, and Cecil and Elizabeth Kelly. Alongside painting and drawing, she was also noted for her ability to carve wooden furniture, write plays, and for her design skills – she designed a Mount Cook lily emblem for the Mount Cook Motor Company, a local business owned by her husband, Rodolph Wigley.
Jessie – who married, later in life for her time, at the age of 27 – was the daughter of Helen and Alexander Grant. She was only 21 when she took on responsibly for decorating the interior of the Grant's new Queen Anne Revival Edwardian house in Wai-iti Road, Timaru. This was the retirement residence of Helen and Alexander after they had farmed at Grey's Hills Station in Burkes Pass from 1881. Creative and practical, Jessie had channelled her energies into carving wooden furniture (to add to what had been ordered from Glasgow), selecting wall paper, and sewing bedspreads and curtains for the family over a period of several months. The family moved into the completed and prepared home in 1905.
Wigley exhibited artwork with the Canterbury Society of Arts and the Auckland Art Society, and was a member of the South Canterbury Arts Society. In fact, she was an active patron for the arts in South Canterbury as one of the founders of the South Canterbury Arts Club in 1951 – the South Canterbury Arts Club merged with the South Canterbury Arts Society in 1953 after the Society's (which had been established in Timaru in 1895) activities had declined from the 1920s. Well connected with local artists, Wigley became patron of the revived South Canterbury Art Society in 1954.
Wigley's devotion to promoting art in South Canterbury was truly revealed when she and her brother, James Grant (1879 – 1969), gifted the Aigantighe House and Garden to be used as an Art Gallery for the vicinity - which Grant did in October 1955, the same year that he inherited the property. Later, Wigley gifted several artworks from her own private collection – these include some Aigantighe Art Gallery favourites by British and Italian artists such as Lucy Kemp-Welch, Henry John Yeend King, Marcella Smith, William Wyllie, Delapoer Downing, and Giuseppe Gambogi.
The legacy left by Jessie Wigley also includes seven of her own paintings that are held in the Aigantighe's permanent collection. One of which is Edinburgh from Calton Hill, c.1950, a watercolour of a popular view from Calton Hill in central Edinburgh, Scotland. Helen and Alexander Grant had emigrated from Scotland in 1861 and Helen had been born in Edinburgh. It is very likely that Wigley would have visited her mother's home city and this painting seems to declare and celebrate her maternal roots. Hazy, blue and almost opaque, the cityscape spreads out before us, presented in a way that is almost iconic - like a remembered shimmering image full of feeling. The carefully executed skyline (which includes the outline of Edinburgh Castle) along with skilfully recreated details of buildings (such as the clock tower of the now Balmoral Hotel), sits in between the greenery of foreground and the peaceful clouds hanging stationary in the blue sky above.