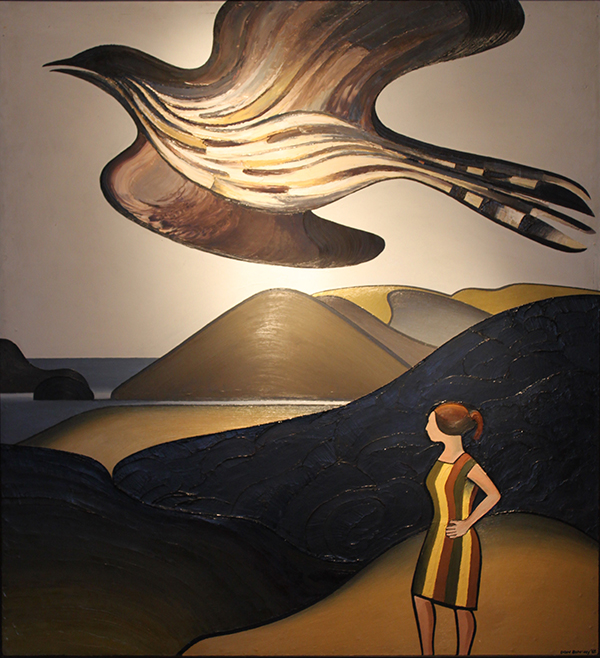 Don Binney, Green Autumn Te Henga, 1965, oil on board, Aigantighe Art Gallery Collection 1979.2
Don Binney's paintings are amongst the most instantly recognisable and iconic images in New Zealand art, with their fluid forms, sense of space, and depictions of native birds and the unique New Zealand landscape.
Binney was born in Auckland in 1940, and was the nephew of prominent architect Roy Binney. He grew up in Parnell. From 1958-1961 Binney studied at Elam School of Fine Arts in Auckland, and gained a Diploma of Fine Arts. Binney's tutors included Ida Eisa, James Turkington, Robert Ellis and Robin Wood. In 1963, he held his first solo exhibition in Auckland at the Ikon Gallery, and then began teaching at Mount Roskill Grammar School. In 1967 he was the recipient of a Queen Elizabeth II Arts Council travel fellowship. He spent time in Mexico, London and Australia before returning to New Zealand becoming the senior lecturer in painting at Elam School of Fine Arts from 1979 to 1998.
During the 1960s Binney developed a hard-edged style that has similarities to the New Zealand regionalist artists of the 1930s, such as William Sutton and Rita Angus. But Binney's paintings are more symbolic, with the wind-swept hills and birds suspended in flight, Binney was interested in the relationship between the environment and its inhabitants and was an advocate for conservation. Binney stated "I've always been thoroughly involved in the way in which the land, the environment the creature lives in, modifies the creature. The creature of course also modifies the land: it's symbiosis really isn't it?"
Binney was awarded an OBE for services to the arts in the 1995 Queen's Birthday Honours and is represented in art collections around New Zealand