William Greene, Spring - South Canterbury Riverbed, c.1913, oil on canvas, Aigantighe Art Gallery Collection, 1956.76
Since the inception of the Aigantighe Art Gallery in 1956, the Collection has grown to a treasure trove of over 1700 paintings, drawings, and sculptures. With-in this diverse public collection of art there are 13 paintings by the South Canterbury artist William Greene.
Greene was described as a "gentle natured, sensitive, shy little man who loved everything and everyone. There was not a bite of vice in his make-up." (Philip Dovovan 27 August 1968) But despite this image of gentleness, Greene was a giant figure in the development of the arts in South Canterbury at the start of the 20th century. He was beloved by his many pupils for his readiness to help; he was a founding member and supporter of the South Canterbury Art Society; he was well known to many art lovers in the Canterbury region.
Greene was born in Australia and immigrated to Dunedin, New Zealand, with this family in 1874 at the age of 2. In 1894 Greene came to Timaru and established his first studio in Bank Street, near the Woollen Factory. In the following year, on 1 October 1896, Greene went into partnership with C.H.T. Sterndale (an artist who settled in Timaru in 1895), and opened an art school and studio in the Royal Arcade on Stafford Street.
In 1900 Greene decided to travel to Melbourne to study with the sculptor Charles Richardson (1853-1932). Before departing Timaru, Greene displayed a large number of his works in the local shops and sold 25 paintings.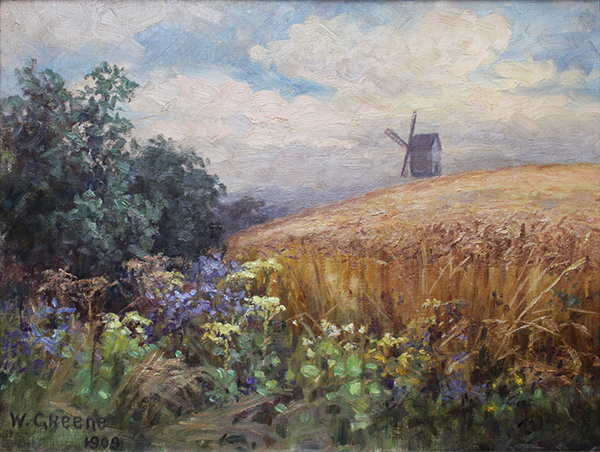 William Greene, Surrey Landscape, 1909, oil on canvas, Aigantighe Art Gallery Collection, 1956.23
A year later, Greene returned to Timaru, but in 1905 he decided to travel again - this time to London to study at the Calderons School of Animal Painting in Kensington under Briton Riviere (1840-1920) and Sir Alfred East (1844-1913). While traveling in Europe Greene met Katrine Josefine Walchter (1882-1957) - a Hungarian artist who he later married in London.
In 1912 Greene took up a part time teaching position at Timaru Boys' High School and a position at the Timaru Technical College. Then in 1921 he moved to Christchurch and took up a position at the Christchurch Teacher's Training College. But before leaving Timaru (as a founding member and for his dedication to the arts in the region)he was made a life member of the South Canterbury Art Society. Greene died in Christchurch at the age of 53.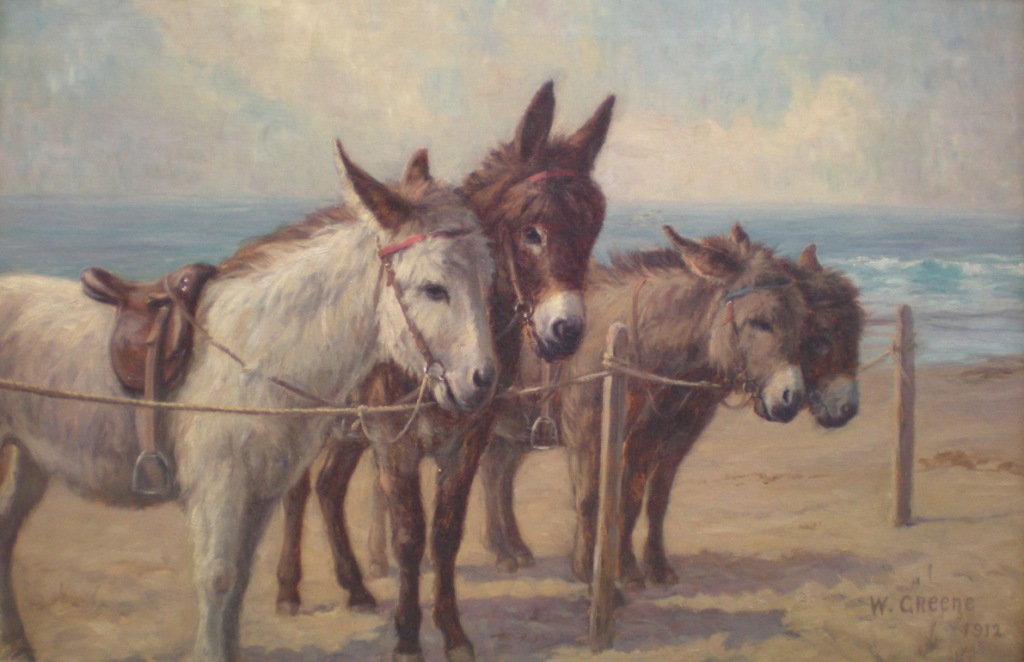 William Greene, The Unemployed, 1912, oil on canvas, Aigantighe Art Gallery Collection, 2002.9
Greene was a humble man who loved to paint the sublime beauty of animals and the simple rural landscapes that surrounded him. Echoing some of these contemporaries , such as Sir Edwin Henry Landseer (1802 – 1873) and the painters of the French Realism movement of the mid-19th-century including Jean-François Millet and Gustave Courbet, who painted ordinary people and the ordinary surroundings of everyday, trying to capture a world before it is destroyed by the industrial revolution.
In 1902 Greene stated "The simple pastoral landscape is to me much more beautiful than our grander scenes, I fear that the latter has, to a certain extent, a bad effect on our young artists, causing them to think far too much of subject, and to neglect the interpretation of that quieter beauty which is within the reach of everyone and yet is seen by few." (Dunedin Christmas Annual, 1902, p.19)