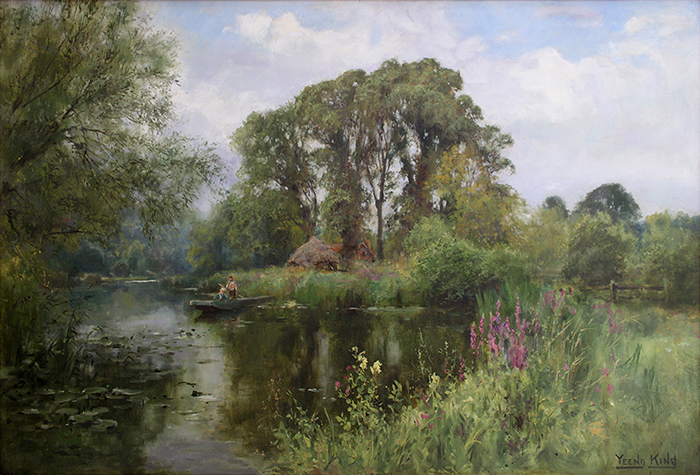 Henry John Yeend King, Still Waters, Oil on Canvas, Aigantighe Art Gallery Collection, 1962.8
In this depiction of a countryside pond fringed by reeds and willows and freckled with water lilies, the nineteenth century British painter, Henry John Yeend King, imagines an idyllic rural scene that directly contrasts the rapid and intense industrialisation that has come to characterise his era.
With his predominant focus on the image of youthful women who are depicted at ease within the rustic British countryside, one could assume that King's was himself a countryman. Surprisingly, this is far from the case: the artist was born in London in 1855 and spent most of his life in the city. He was academically trained by acclaimed British artists, and then later in France, where he absorbed the ideas and techniques of Impressionism and Realism which dominated Parisian art society at the time. This can be seen in King's enduring preference for a plein-air approach – he would paint outdoors to witness the effects of nature and then translate them immediately onto a canvas with paint.
King's relationship to the rural lifestyle was principally one of sentimentalism; painting what he longed for in his experience of every-day city life, he presents the natural landscape as pure (in the sense of moral), beautiful, bountiful and familiar. In Still Waters, King shows this through a composition which places human figures within a grand and magnificent setting, making them small in comparison to the natural world – but, rather than being threatened, they are surrounded by an all-encompassing embrace.
This ideal view of rural life can be understood as a reaction against the expansion of cities. The industrial world was new and daunting to its contemporaries and it was accompanied by totally unprecedented values and ways of life. In contrast to grey, smog-covered cities, the agricultural lifestyle held an appeal as a slower, easier and more comfortable living; for artists such as Henry John Yeend King — it provided beautiful subject matter and was worthy to be preserved forever as a painting.